Virtual Pet Online - v1.14 Code Update 2 is out!
[Virtual Pet Codes]
The highlight feature of this update is the ability to input a 5-Digit Virtual Pet Code in order to receive a Virtual Pet. This code can be from either Virtual Pet Online, or Quest. To get your active Virtual Pet's code, simply go to the Virtual Pet Storage System and check the top-left corner. There, you will find a 5-Digit Number.
Here is an example of a Virtual Pet Code: 13302
Virtual Pet Codes are intended to be shared with other people, but you can also transfer a Virtual Pet from one game to another by using the code that you'd receive in said game.
[New Info Book Pages]
Two pages have been added to the Info Book for the Triangle and Rhombus.
[Bugfixes]
Obviously, we can't forget about the bugfixes.
Hopefully, you still enjoy playing Virtual Pet Online. Here's an event to celebrate the release of v1.14.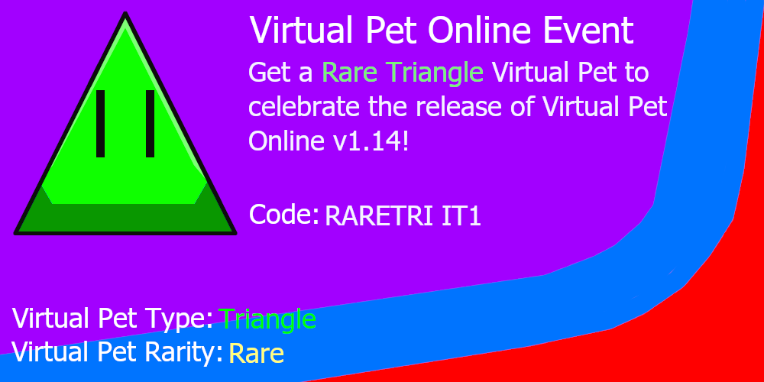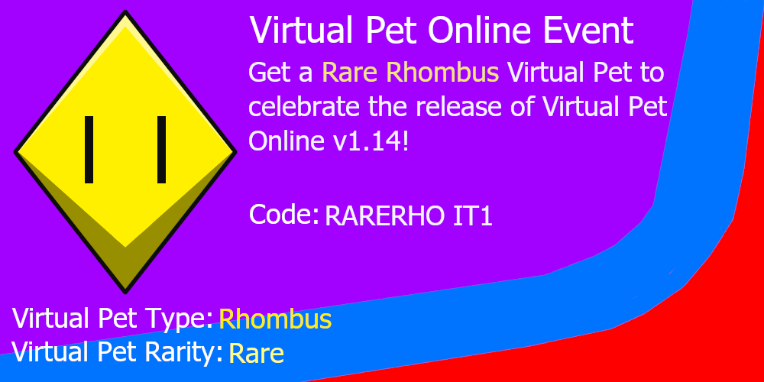 Like last time, follow these instructions to get these Virtual Pets:
1 - Go to Virtual Pet Online (v1.13 or later)
2 - Click on the Code Entry Button
3 - Enter the code for either the Rare Triangle or Rare Rhombus
4 - Click on the Verify Button
5 - If the code was entered properly, and 8 Buttons appear, select one of the 8 Boxes to send the Virtual Pet to
6 - Enjoy!
Note: The received Virtual Pet will always be Rare.